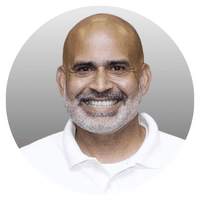 Shad McFadden, Senior VP of Operations and Consulting 
Shad is a strategic and operational leader who comes to Orange Grove from a career focused on Product Management in the Telecommunications industry.  Earlier in his career, he gained extensive consulting experience bringing new Telecommunications products to market while working for Andersen Consulting (Accenture), PricewaterhouseCoopers, and Kenan Systems.  He holds a B.S. in Marketing from the University of Maryland and spent his final semester at Maryland working as an intern for a U.S. Senator.
In 2020, Shad was appointed to the City of El Segundo's Diversity, Equity, and Inclusion committee, and elected as the group's first chairman.  Since that time, he has worked with the committee and City leaders to achieve positive change for those that visit, work, and live in El Segundo.  Shad's subcommittee work includes partnering with local businesses and the El Segundo Police and Fire Departments.  
In the time he has left, Shad coaches both of his daughters' AYSO soccer teams, while continuing to be an active AYSO board member, serving as the  Regional Commissioner from 2020-2023.