Jodi Detjen, Managing Partner
Jodi is an accomplished organizational consultant and educator with a foundation in operational change management. Her mission is to help realize inclusion in the workplace as soon as possible. In addition to being Co-Founder and Managing Partner of Orange Grove Consulting, Jodi is Associate Professor of Practice in Management and Academic MBA Program Director at Suffolk University, Boston, MA. She has worked in organizational development for over 25 of years transforming the way people work at small and large companies. Jodi designs top-tier women's leadership training, consults and runs workshops for clients, and is a highly sought after speaker and writer for organizations.
She is co-author of the book, The Orange Line: A Woman's Guide to Integrating Career, Family, and Life. Additionally, she is the co-author of The Next Smart Step, which was released spring 2021 and can be found on Adam Grant's recommended reading list.
Jodi earned her B.Sc. in Management Science from Virginia Tech, an MA in International Development Policy from Duke University and a Doctorate in Business Administration at Temple University. She is an active member of a many women's advocacy organizations among them, the Geena Davis Women in Media and the Boston Club.
Download Jodi's Bio and Headshot
Experience
Co-founder and Managing Partner, Orange Grove Consulting, a Women's Leadership Training Consultancy
Clinical Professor of Management, Suffolk University, Boston, MA
Specializes in helping women overcome their self-limiting assumptions to embrace their full potential as leaders
Co-author of The Orange Line: A Woman's Guide to Integrating Career, Family, and Life
MBA Academic Program Director
Co-director, Center for Innovative Collaboration Leadership at Suffolk University
Jodi Detjen's Book
The Next Smart Step (2020)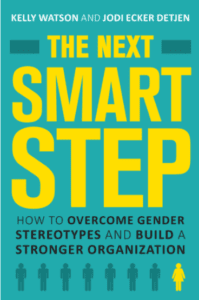 Co-Authors, Jodi Ecker Detjen and Kelly Watson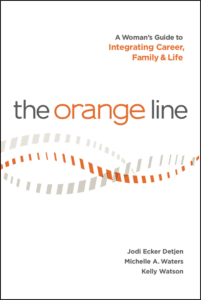 The biggest barrier to women becoming leaders we see is their assumptions about their own limitations.  Many of these are socialized in girls from a young age.  We see women holding themselves back continually.  And we see women literally change their communities, organizations, and the world when they reframe these assumptions and realize their inherent capabilities and power.
Jodi Detjen, Co-Author, The Orange Line: A Woman's Guide to Integrating Career, Family, and Life
Jodi Detjen Speaking
Highlighted in Brandon Hall's Women in Leadership 2017 Edition
"Women feel they have to do it all. We do everything around the house, and then we are going to work, and we are doing it all there too. You can't take a risk if you are doing it all. You are too busy." – Jodi Detjen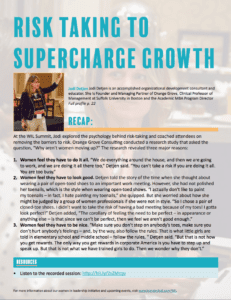 Speaking Engagements
CREW Boston Women's Leadership Academy
Compliance Week
CREW Network HR Forum
Society for Women Engineers Annual Conference
CIO Women in Leadership Conference
Brandon Hall Women's Summit LISTEN TO PRESENTATION
Linkage Annual Conference
Granite State HR Conference
Trip Advisor
Dunkin Donuts
Microsoft Partner Network
Federal Reserve Boston
Ballentine Partners
Newton Inspires
Manulife, Suffolk
OpenSesame
Skillsoft / HCI Webinar
Women in Finance Association
Duke Women's Alumni Association
Smith College, Alumnae
HarvardWeCode
Harvard Medical School
Bright Horizons Family Matters Podcast
Broad Experience Podcast
Brandon Hall Podcast
Click Here to hear Jodi speak on Webinars and Podcasts
I believe in women's leadership for two reasons.  First, there is a significant percentage of high quality talent that is being underutilized across the organizational hierarchy.  Secondly, women bring an alternative perspective because of their socialized experience.  This perspective yields innovative solutions that have barely been identified.  For organizations that can tap into this, these reasons translate into increased profitability. – Jodi Detjen